Maria Galland embraces the concept of high-quality cosmetology. Cosmeticians and their clients both agree that Maria Galland professionals are offering the highest standards of revitalizing, rejuvenating, anti-age cosmetics thus providing solutions to even the most demanding skin problems.
Maria Galland cosmetics for long-lasting radiant beauty.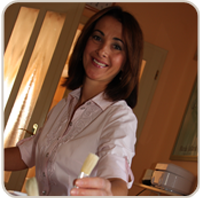 I am Éva Kulcsár, a master beautician, the owner of the beauty salon La Perla.
I have been working as a beautician for 20 more than years now and I had apprentices for 15 years. I constantly attend  trainings to improve my skills. I always set high standards for myself and I always use the best ingredients and products.
I have been working with Maria Galland products for 10 years now. In my beauty salon you can have anything from the simplest facials to deluxe treatments. After treatments I offer guidance for home beauty care. You can buy high-quality products at my salon for home use.